Specials

April 2018



Spring is full of things to do in Traverse City. In April you won't fight the crowds or the heat. It's a perfect time to breathe in the fresh air as you discover the wonders of northern Michigan. Search no more; we have an easy access guide to what to do in Traverse City this April 2018!

Jump on the TART (Traverse Area Recreational Trail) trail only a few blocks from Wellington Inn. Followed to the west bikers will head toward the village of Suttons Bay in beautiful Leelanau County along 16 miles of beautiful countryside. Followed to the east you'll find easy riding and access to local establishments all along Traverse City's "Miracle Mile".
Either way you peddle it, you're in for a beautiful adventure.
Want a quick but still scenic trail? Wellington inn is a walk or short bike ride away from the Boardman Trail which is a scenic bike ride around Boardman lake right in Traverse City. Grab a picnic lunch and your afternoon is complete!
Saturday mornings, from 10am-2pm.
There is much to explore at The Village at Grand Traverse Commons. Grab a bike for perfect springtime transportation and fill all of your senses. Take a pit stop at the Traverse City's indoor farmers market located inside and indulge in local farm fresh food.
Sunday, April 15
9th annual Chocolate Festival
It's the biggest Chocolate Festival in Michigan and will not disappoint at the historic City Opera House. With a variety of exhibitors, there will be door prizes and even live music by Traverse City's own Jim Hawley. This is a great festival supporting the Northwest Food Coalition.

Saturday, April 21
MyNorth Wine & Weddings
Brides their friends and families get ready for a springtime tour of various participating wineries on both the old mission and Leelanau peninsulas. Wine & Weddings is a progressive event that includes eight wineries along the entire Traverse Wine Coast. Get a wine taste at each winery and meet vendors including photographers, bridal gown shops, wedding cake bakers, and florists to help plan your fairytale wedding.

Friday and Saturday, April 27th & 28th
Trail Running Festival
With a two-person adult 10k relay kickoff, the Traverse City Trail Running Festival is northern Michigan's biggest off-road running race. The individual 10K, 25K and 50K runs get underway Saturday morning and the post-racing celebration is not to be missed!



March 2018



Chosen by "iLoveInns.com", Wellington Inn has been named one of America's Top 10 Most Romantic Inns for 2018!

March is full of things to do in Traverse City; we have done the legwork for you! Below you will find an array of activities from dining to live performances or parties in the woods most within a short walk from your room in our small elegant hotel.

Sunday, February 25th through Saturday, March 3rd get familiar with Traverse City Restaurant Week. (TCRW) offers culinary delights of Traverse City at a really affordable price!
With prices from $25 - $35 per person, you can enjoy multiple nights out discovering your new favorite spots! Reservations are strongly encouraged. "Click here" to see participating establishments and menus.

The 12th Annual Suds & Snow is back again this year on Saturday, March 3rd from 1-6pm!
Michigan's ultimate "Party in the Woods will take you on a 1/2 mile hike through the backwoods of Timber Ridge Resort where two live-music stages will feature local musicians, 20 + craft breweries serving beer, wine, & cider, and local food vendors. "Click here" for more details.

Monday, March 5th through Sunday the 11th Amical will feature its CookBook Series in which this month's week-long feature will be by Marcus Samuelsson. Born in Ethiopia and raised in Sweden, some of his recipes of American cuisine inspired by the South will come to life in Traverse City. "Click here" for reservations and more.

On Friday, March 16th The City Opera house will be featuring one of the world's greatest and most innovative vocal groups, The Manhattan Transfer! Winners of 10 Grammy Awards, this quartet has sold millions of records worldwide and has been together for over 45 years! "Click here" for more details and to purchase tickets.

Friday, March 16th through Saturday the 31st, The Old Town Playhouse will put on William Shakespeare's most popular comedy "A Midsummer Night's Dream". With various performance times Thursdays through Sundays, "Click here"for tickets and more information.

We hope to see you soon in Traverse City!





February 2018


It's no problem that Valentine's Day doesn't fall on a weekend this year, with some romantic events happening right in the Traverse City area, you have your choice of two weekends to celebrate!

On Friday, February 9th or 16th, you could get settled in at Wellington Inn. Stay warm and recharge in the comforts of your chambers private fireplace or, take a short walk to just about anywhere downtown Traverse City.

February 10th and 11th could be an adventure of snow-covered vineyards with sweet & savory bites paired with amazing wine. Should you choose to "Taste the passion" along the Leelanau Peninsula wine trail, it will be taking place Saturday from 11 - 5 and Sunday from 12 - 5.
Taste the passion tickets include a souvenir wine glass, Leelanau wine and food pairings at each participating winery which include the Sleeping Beer loop (Rove Estate, Bel Lago Vineyards & Winery, Good Harbor Vineyards, Laurentide Winery, Cherry Republic, Chateau Fontaine) See wineries on the Grand Traverse Bay and Northern loops by clicking the link below.
Click here for more info and Tickets

If local breweries and music would be more your style, the Microbrew & Music festival has you covered on February 9th and 10th! The festival will be held at the newly opened Mt. Mancelona. With transportation options still TBD, the music lineup will not disappoint with Delilah DeWylde, Mustard Plug, and The Ragbirds. For more information and tickets click the link above.

The weekend of February 17th will be a very romantic one with the annual WOMP Romancing the Riesling.
The Saturday event runs from 10am - 5pm and tickets include wine and food pairings at each participating winery. Hence the name, this festival is in honor of the famed Riesling grape and features Wineries along the Old Mission Peninsula. For more information and ticket sales click here.


---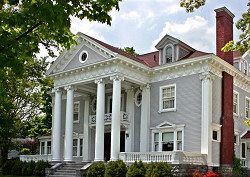 Gift Certificates

Ask us about our Gift Certificates, an ideal gift for the Holidays, Mother's Day, Birthdays, Anniversaries, Graduation, Weddings, and a memorable way to thank outstanding employees or valued clients.

Stay at the Wellington Inn and walk to one of these fine restaurants:

Amical
Firefly
Red Ginger